Acne Clear
Effective alternative to daily pills and creams.
Acne is a common condition characterized by obstructed sebaceous glands, pimples and sometimes deeper cysts or nodules that occur on the face, neck, chest, back, shoulders and upper arms. Acne does not only begin in adolescence and sometimes it can affect adults which is becoming more common. When severe, acne can often result in scarring. Even less severe cases can lead to scarring, if not properly treated.
Until recently, patients with persistent, moderate acne have been treated with only topical or sometimes systemic antibiotics. Recent studies have demonstrated, however, that certain discrete spectra can trigger endogenic porphyrins that naturally destroy P. acnes bacteria — and in just a fraction of the time it typically takes for antibiotics to work. Within eight brief acne laser treatments, over just four weeks, Harmony®XL's AFT can provide significant improvement. This is three times faster than common antibiotics and topical. Patients should achieve 80% clearance. The treatment can take around 30 minutes or less depending on area. This will be discussed on consultation.
Technology in use
Clear inflammatory acne lesions without drugs or undesirable side effects using the HarmonyXL AFT laser handpiece. Intense blue wavelengths in the range of 420-950 nm target the porphyrins produced as part of the normal metabolism of P. acnes bacteria. The interaction of the intense blue light and the porphyrins creates singlet oxygen that rapidly destroys the bacteria without damaging the surrounding tissue.
Key advantages for patients
• Quicker results than pharmaceuticals
• Safe treatment with 80% or more acne clearance on average
• 8 or more treatments but some clients need considerably less. 8 treatments is the average course.  
Acne Scarring
We also offer treatment for Acne scarring, which can commence after your Acne Clear Treatment has been completed. We have a wide variety of methods to reduce this concern from i-Pixel, Clear lift Pixel and Micro-needling, so depending on your budget and whether you want quicker results or no down-time, we will accommodate your needs.
For more information;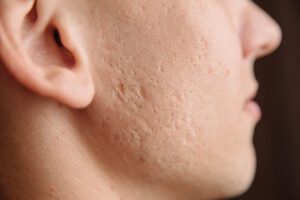 We offer a free consultation to all new clients so we can help you decide what kind of treatments will suit you.