The Big 'S' – Stressed Out Skin
As we start to come out of these long winter months our skin starts to show signs of stress, and it is important to look after yourself both inside and out.
Stress itself can show signs on your skin, as it causes our body to create more hormones such as cortisol as it tells our skin to produce more oil than usual, which in itself can cause your skin to be more prone to acne and other skin conditions.
Signs your skin is stressed;
Increased Redness/ Inflammation
Acne prone
Dark Circles / Black bags under your eyes
Thinner / Drier skin
Fine Lines and Wrinkles
Delay in natural healing
Redness / Inflammation
When your skin gets stressed, your skin can become more sensitive/ aggravated as your immune system weakens, which can make it harder for your skin to heal. Client's suffering with conditions such as psoriasis, rosacea and eczema like myself may get worse. It can also cause conditions such as Hives and other skin rashes, and trigger a flare up of fever blisters.
To help protect your skin, we recommend using our Heliocare SPF50 Sun Protection as this not only protects you again UVA, UVB, Visible Light and IR-A, it has a built in Fernblock and other actives which have antioxidant properties to help protect your skin from daily pollution, ONLY £31.
We also have a range of products in our ALL SKIN MED Range from pigment control to the radiance Gel that can help calm these skin conditions.
We also highly recommend our Award Winning, Dermalux LED Light Therapy Treatment that is clinical proven to rejuvenate and repair a variety of skin conditions without any pain or down time.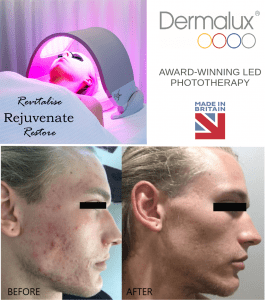 Acne Prone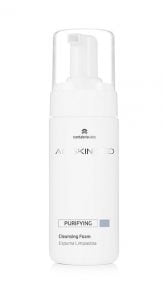 When stressed your body processes more Cortisol which makes you produce a hormone called CRH (corticotrophin-releasing hormone) which stimulate oil release from your sebaceous glands around your hair follicles, so you produce excessive oil by these glands that can clog your pores and lead to acne.
We have many products that can help with acne, even something as simple as out ALL SKIN MED Cleansing Foam treatments available in Clinic for ONLY £25. This cleanser will work on the 5 layers of your skin, getting down to the root of the problem compared to high street products that only work on the top 2 layers.
Dark Circles
This is shown in terms of puffiness or swelling beneath your eyes, which can become more common with age due to the supporting muscles around the eyes begin to weaken as it looses it's elasticity, causing sagging skin and uneven pigmentation. This can be caused by lack of sleep, poor diet or for some people it is a genetic condition.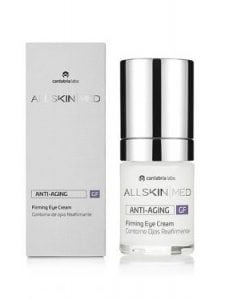 Beauty Advance can help with this concern, we recommend a combination of our clinical ALL SKIN MED Anti-aging Firming Eye Cream with our Clear Lift Laser Treatment (Also known as the 'Hollywood Laser Facial') which helps to promote the collagen and elastin with in the skin, and it also helps to even out your skin tone.
If you are anything like myself, you have tried every cream under the sun which no changes, and this combination is the only product/ treatment that has worked.
Another add on treatment that is recommended as part of the treatment plan is a Dermalux LED Light Therapy Treatment as it helps speed up the healing process.
Click here to find out more about our Clear Lift Hollywood Facial Laser Treatment.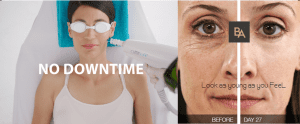 Fine lines/ Wrinkles
Abnormally high cortisol levels can cause the skin to get thinner, as it breaks down the dermal proteins which can then make the skin appear almost paper thin, and can lead to dehydrated skin giving a drier appearance.
Also a change to the proteins in your skin can lead to reduced elasticity, causing fine line and wrinkles to appear. We already stop producing as much elastin and collagen in our early 20's which leads to signs of ageing, so helping to protect your skin barrier and increasing hydrating can reduce can help prevent or slow down the ageing process.
Other top tips….
Our skin always needs hydrating, so making sure you drink plenty of water will help rehydrate your skin and help flush out any toxin's with in the body.
Maintaining a health life style, such as ensuring you get plenty of sleep, and a health diet.
Wearing SPF 50+ Sun Protection daily