#dropthefilter has now been growing momentum for a few months. From Huda Beauty's call for influencers and brands to state when filters are used, to Grazia featuring 'the end of the love island face'
At Beauty Advance, our ethos from the very core; is all about being the best version of you.
Our treatments create the maximum results with the minimum discomfort via our investment in our staff and clients. We only use the latest laser techniques and training.
Clear Lift aka the "laser facelift"
One of our most impressive laser treatments is called ClearLift®. This is already a huge hit in Hollywood because of its proven effectiveness.
It's known as the "laser facelift" treatment that can be done in your lunch hour.
Part of our USP is multilayering or/and lunchtime treatments. We love to see technology combined with our team creating lasting effects quickly for our clients.
This treatment is used for rejuvenating the skin, giving a tighter, firmer appearance, without invasive and painful surgery. Skin is regenerated from underneath with absolutely no injury to the skin's surface, leaving no redness or tell-tale signs.
ClearLift® is best utilised on the fine lines around the eyes and mouth. But it can also be used on the upper cheek area and the forehead.
We do offer neck-lifts with this machine. However, typically the neck is a difficult area to firm and lift without invasive and painful surgery. To tighten the skin under the neck, we offer bespoke skin tightening treatments.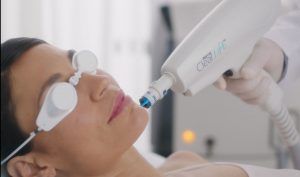 What this treatment CAN help with…
Improves the appearance of sun-damaged skin
Smoothes fine lines and wrinkles
Shrinks the appearance of pores
Reduces the appearance of acne scars
This is not about filters. It's about feeling good in your own skin, and we believe that's our forte!