Soprano Ice / Titanium Cardiff
Laser Hair Removal Reinvented – Stronger, Faster, Smarter.
A breakthrough hair removal platform that combines ultimate functionality with unparalleled comfort – offering a significant improved solution for clients.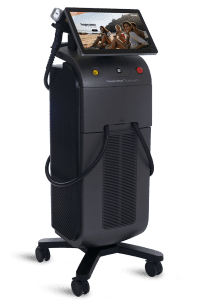 Soprano Titanium leverages the benefits of three combined wavelengths, which is virtually pain-free, effective, quick and once you have had it you wouldn't pick anything else.
You will be expected to come in every 4 weeks for removal on the face and every 6 weeks for the Body, in line with hair growth.
On average 9 – 12 treatments are required,  but you may need more for the stubborn areas, or if your hormones change.
Prices start from £30 per test patch.
Best Results with 3 Combined technologies
Quick Lunchbreak Treatment with a super-sized coverage area
Forget about pain with a breakthrough ICE Plus cooling system.
We offer a free consultation to all new clients so we can help you decide what kind of treatments will suit you.