Dermoregen Microdermabrasion & Microcurrents Cardiff
Our NEW Dermoregen machine delivers a winning combination of two technologies; Microdermabrasion and Microcurrents for treatments on both the FACE and BODY.
We've ALL  been led to believe that smearing on some Hyaluronic Acid, Retinol and Collagen will help us nourish our skin.
What we've now found is that just massaging these cosmetics into the top layer of our skin doesn't allow for the products to penetrate deep enough, it may feel nice on the skin surface but is but it's just not enough to get the results we want.
The only way to ensure these products get to the lower layers of our skin is through technology such as Dermoregen, as it opens up the skin layers to allow products to penetrate deeper!
Medical Microdermabrasion
Would you like baby-soft and smooth skin, with fewer wrinkles and blemishes – then Microdermabrasion could be what you are looking for! Uses an exfoliating and soothing action on face and body to remove impurities and dead cells.
Microdermabrasion originally came from Italy 15 years ago and is now one of America's most popular facial treatments. Find out why this wonderfully, effective peel is so popular.
Microcurrents
This technology will help modify the permeability of the skin's outer layer, the so-called stratum corneum, and ensure active ingredients pass through the skin barrier through temporary access channels,  called Electropores.
So combined with Microdermabrasion this will give your skin the best possible results!!
How many initial treatments are recommended and how soon will I see results?
Age and skin condition will determine the number of treatments required to achieve the maximum effect. For most common skin disorders a minimum of six weekly treatments are usually recommended. The results are evident from both the skin's texture and its appearance after the very first session. 
Using MICRODERMABRASION & MICROCURRENTS considerably increases the absorption of active ingredients, which are evenly distributed across the epidermis and dermis.
68% MORE SERUM ABSORBED.
Compared to assimilation without microdermabrasion.
58% MORE CREAM ABSORBED.
Compared to assimilation without microdermabrasion.
* Test carried out with a standard serum and emulsion to which a target molecule was added (1% concentration of sodium hyaluronate). Test carried out after a 20-minute microdermabrasion treatment.
Following this to keep the skin in a healthy, good-looking condition, one treatment per month is recommended.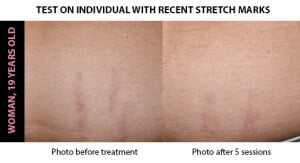 We offer a free consultation to all new clients so we can help you decide what kind of treatments will suit you.