We have a wide variety of treatments available for these areas, so depending on your concern it will depend on what the Practitioner recommends for you with in your consultation. Treatments such as Clear Lift, RF (Radio Frequency,) NIR (Near Infrared), Skin Rejuvenation, Dye-VL and Advanced Skin Treatments.
iPixel Erbium
Our amazing iPixel Laser Resurfacing Laser technology gently restores your skin's appearance; providing dramatic results similar to chemical peeling by returning your skin to a youthful and more radiant glow.
Laser spots from the iPixel create controlled microscopic holes in the skin, heating the area and stimulating collagen regrowth for tighter and healthier skin.
Can help improve signs of aging such as;
Age Spots

Pigmentation

Line lines and wrinkles

Scars and Acne Scars

Stretch Marks
This laser results in minimal pain and downtime, while still bringing fantastic skin improvements.
On average 1 – 4 treatments may be necessary, and while results may be noticeable immediately, it often takes 2 – 3 months for optimal results.
Prices are given out with in a consultation, and you will first be offered a test patch for £30.
For more information, please book a FREE no obligation consultation today!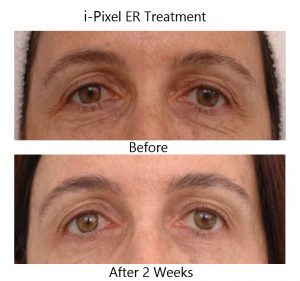 For more information on our other treatments, follow the links above.
We offer a free consultation to all new clients so we can help you decide what kind of treatments will suit you.